Union Made IAFF Local Websites
The UnionActive™ website system is the ultimate tool for IAFF Union organizations to maintain a professional website presence with up-to-the minute information and powerful membership communication tools.

With the UnionActive™ system, your website will become a key part of your organizations day to day functions, and a key way for your members to stay informed.

IAFF UnionActive™ Highlights: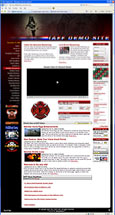 UnionActive™ Demo Screen Shot
100% Union Made by Unions-America.com and Profirefighter.com specifically for IAFF Organizations
Complete Content Management System; You maintain all the content for your web site, make changes as frequently as you need, add and remove your own pages, no HTML/Web Design knowledge or programs needed, no waiting for updates to your web site.
Feature packed with built in functions including message boards, online voting, online dues payment, member only resources, complete built-in online store & shopping cart, photo gallery, email broadcasting to members, and so much more!
Fully customizable look with your colors and logo, plus option for integrated custom Union website design.
Integrated member access with personalized access for each member to access member only features and keep their information up-to-date with the Union.
Have your organizations web site up and running in as little as 1-2 days including a custom domain name.
Automatic updates, as we enhance and update the UnionActive™ system, your website will automatically be updated as well.
Major Discounts for IAFF State Website Networks
If your state association has chosen to build their own statewide-online website network, you now have the ability to get your own UnionActive IAFF website for almost half the normal price. All IAFF state associations listed on the Local News page are currently participating the in Statewide Network program. If your local is in one of these states the local is eligable for the discount pricing.
Click here for more information about the IAFF Statewide Network plan.